Keeping Rural Trauma Care Strong
by Chad Cooper | Posted: Friday, October 14, 2016 5:00 am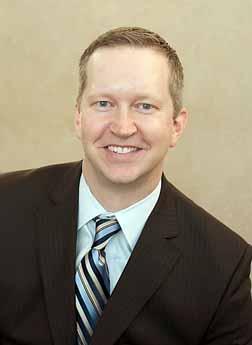 Chief Executive Officer Chad Cooper.
A heart attack strikes. A motor vehicle accident causes serious, life-threatening injuries. A child's airway becomes blocked.
We depend on hospitals to offer life-saving care every day. In a rural area where distance to the nearest hospital is typically much greater than in a metro area, getting advanced life support care in a timely manner is more critical than ever.
At Riverwood Healthcare Center, our emergency department staff trains intensively and regularly to deliver comprehensive advanced life support. In 2008, Riverwood Healthcare Center became the third hospital in Minnesota to receive the prestigious certification of excellence in emergency care – the CALS Hospital designation from the Comprehensive Advanced Life Support Program. In mid-September at our annual gala event in Aitkin, two representatives of the CALS program presented  Riverwood with a plaque of recertification as a CALS Hospital.
CALS is a national program designed to provide lifesaving emergency medical education for rural health care providers. Developed in Minnesota in 1996 as a result of collaboration among emergency medicine physicians, family physicians, rural practitioners, academic specialists, nurses, nurse practitioners, physician assistants and paramedics, CALS is now one of the premier education programs for rural healthcare providers.  Riverwood's emergency department medical director, Dr. James Harris, a CALS instructor, played a leadership role in the development of the CALS program.
Each year, Riverwood offers CALS training for its own healthcare providers and nurses, as well as area hospitals and emergency medical technicians, with about 30 participating in each class. The CALS classes offer an opportunity to learn and practice life-saving skills for the care of critically ill or injured patients with a wide range of emergencies. Course content includes trauma, cardiac, stroke, pediatrics, obstetrics, neonatal, airway compromise and sepsis.
Participants report that taking the CALS course enhances their skills, confidence and teamwork abilities, leaving them better prepared to treat critically ill or injured patients. CALS recertification for healthcare professionals is required every four years. Between courses, CALS offers health care providers the ability to refresh their skills and update their emergency medical knowledge.
Riverwood's emergency department trauma team is made up of one emergency care  physician and two to three registered nurses, an x-ray technician, a lab technician and a certified registered nurse anesthetist – all available 24/7. CALS and other ongoing training ensures that all who are staffing our emergency room are well qualified and prepared to respond to critically ill or injured patients, including those suffering from heart attack or stroke.
Riverwood has a Level 1 Heart Attack Hospital Program, a stroke-ready designation, and participates in the Minnesota  Department of Health statewide trauma program with a Level III Trauma designation. In 2006, Riverwood became the first rural hospital in Minnesota to be approved for a trauma care designation.
Since 2004, we have partnered with the Minneapolis Heart Institute and Abbott Northwestern Hospital in Minneapolis on a treatment protocol for heart attack patients. Within 30 minutes of arrival at Riverwood, our emergency staff is specially trained to quickly assess and identify the needs of cardiac patients and transfer those in need of angioplasty surgery to Abbott Northwestern via medical airlift service.
The stroke-ready designation means that our hospital is equipped to evaluate, stabilize and provide emergency care to patients with acute stroke symptoms. We always have a stroke team available who can administer a key clot-dissolving drug called tPA.
In the event of a critical illness or injury, remember that time is critical in obtaining emergency medical care.  Stress the importance of calling 9-1-1 immediately with all your family members, including children. The paramedics who arrive on scene can take immediate actions to stabilize patients for transport to the hospital.
Riverwood is committed to delivering excellent emergency care for patients in our rural service area. Providing our staff with comprehensive education through the CALS program helps build their advanced life support skills and keeps local trauma care strong.
Chad Cooper is the chief executive officer for Riverwood Healthcare Center, overseeing a 25-bed hospital in Aitkin and three clinics in Aitkin, Garrison and McGregor.
http://www.messagemedia.co/aitkin/opinion/other_opinions/keeping-rural-trauma-care-strong/article_809d1bb0-8fdf-11e6-828b-c734c313bfa8.html